The common material for air ducts is sheet metal. It is initially constructed and then insulated afterwards. The post insulation comes in a variety of different materials. This article will provide some basic information on some of these materials that are commonly used on the inside of the duct system.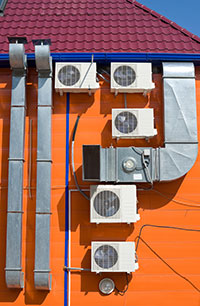 Polyurethane and Phenolic
The polyurethane and phenolic material comes pre-insulated in some air ducts. These are foam panels that the manufacturer makes with an aluminum facing on both sides. The foil can be 25 – 200 micrometers, depending on whether it is designed for indoor or external use. The ones that are made for outdoor use require higher mechanical characteristics. The external duct that is made of these materials are made of aluminum alloy coated sheets of steel which is a multilayer laminate, a reinforced fiber polymer or some other type of coating that is waterproof.
Fiberglass Duct Material
Fiberglass panel material was designed for thermal needs; the inside surface absorbs sound which makes for a quiet operating HVAC system. This kind of duct board is made by running a specially made knife along with the use of a straightedge to guide it. The knife trims out a groove or valley that is 45 degrees. It doesn't penetrate all the way through. The remaining section serves as a hinge. It can then be folded into 90 degree sections, creating a rectangular shape. Afterwards, the ends are stapled together and wrapped with an aluminum backed tape.
Fabric Ductwork
These types of air ducts are typically made of a polyester type material; they can provide air to an area much better than a traditional duct system. Fabric ducts are not really meant to be conduits for condition air flow. They are really just air distribution devices. Many people consider the ducts since they usually replace metal duct systems.